WINTER
FREE DELIVERIES, even in the snow! 
Thanksgiving Dinners and Project Elf* for the Neighbors
Pumpkin Cheesecake
Gourmet Buttercrunch ~ Holiday Catering ~ Trays of Cookies & Scones
Mardi Gras! ~ Po'boys, Jambalaya, Gumbo, Bananas Foster, Muffulettas
Super Bowl Week Food Specials
Valentine's Day and those crazy Triple Chocolate Cookies
Chili Bread Bowls
St. Patrick's Day ~ Corned Beef & Cabbage, Irish Soda Bread, Guinness Soup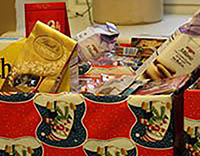 PROJECT ELF *

Each December, the Hamilton Street Cafe Elves reach out to our neighbors in need. Some of the residents of the Robinson Square Apartments do not have enough resources to make ends meet, and subsequently have bare pantries at the end of each month. The Hamilton Street Elves get together gift baskets that contain basic pantry items such as soup, pasta, tuna and crackers. If contributions allow, we like to include additional treats such as chocolate bars and peanuts. The Cafe also contributes homemade baked goods to each basket. Further details will be provided later this year.
SPRING
Easter and Passover Specials
Cinco de Mayo
Outdoor Tables
Lobby Day Catering
Salad Specials
SUMMER
BBQ Wednesdays on the Outdoor Grill
Graduation Parties
Box Lunches for the Track
Iced Mochaccino!!
FALL
Oktoberfest Week of Specials
The return of Hearty Meals, Stews, and Chowders
Columbus Day Specials